Climate change gardens
Designer Sue Townsend MSGD says she is creating more ecological gardens to cope with the extreme weather conditions experienced in the UK in recent years.
Her advice is to plant the right plants for the conditions of each garden, to store water and to allow excess water to be collected then dissipated through the soil.
Joe Perkins MSGD agrees, saying he frequently designs planting schemes that are drought-resistant. He's also noticed that his clients are less inclined to pamper plants with state-of-the- art irrigation systems, because they feel it is more environmentally responsible to use plants which can fend for themselves.
Hanging house plants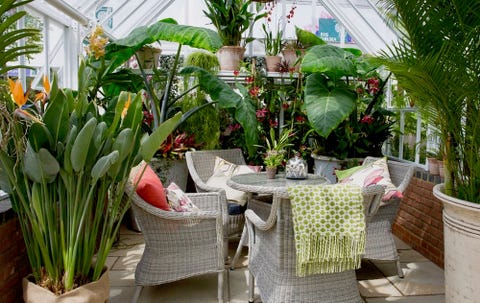 Sculptural and architectural plants will dominate in 2019.
"The continuing rise in popularity of houseplants is being translated outside with exotic-style plants with architectural leaves and stems making bold statements inside and out," Joe Perkins MSGD says.
Joe also predicts that we will be seeing more hanging plants in our gardens. Not traditional hanging baskets, but plants with foliage, colour and texture which can be used as accessories in addition to pots and planters.
Interior meets exterior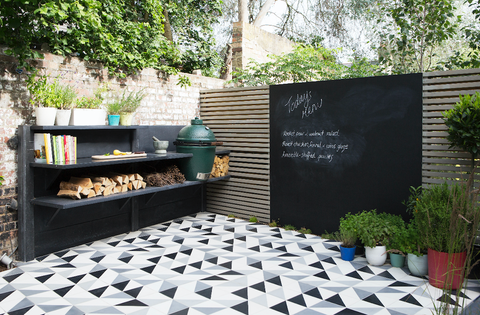 Designers say the colourful approach to interiors will be creeping into the garden in 2019.
Barbara Samitier MSGD expects industrial and reclaimed materials and encaustic tiles to be used more and more in urban gardens to compliment the growing interior trends.
Plants go bold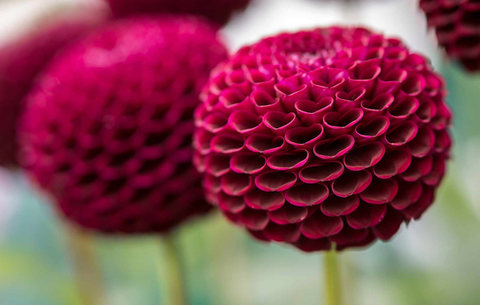 Darren Hawkes predicts the arrival of bold print, clashing colours and the inclusion of large leaved plants.
He thinks we should be "taking kitsch in to the garden" by introducing bedding plants in bright coloured planters, or letting Pompon Dahlias take centre stage.
Wild and perennial meadows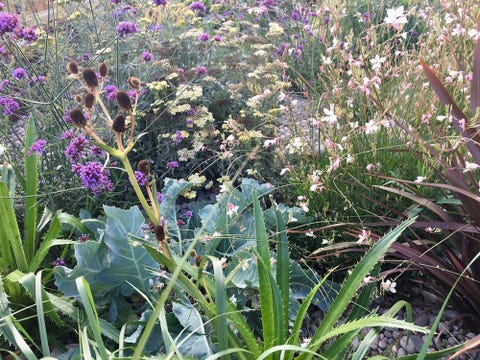 Lots of designers have been experimenting with wildflower and perennial meadows in 2018, and this trend is set to continue into the new year.
The good news is you don't need a large plot to incorporate them into your garden as Sue Townsend MSGD explains.
"I've really enjoyed creating small-medium sized meadows in many of the gardens I have designed this year," she says.
"The most exciting venture was sowing my first perennial meadow. It will take a few years to establish properly but my clients are loving watching it develop. In a few years, it will provide interest from April to late November with relatively little maintenance."